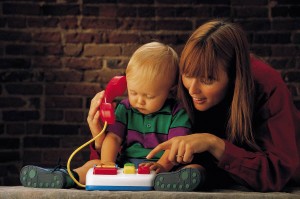 Bright Beginnings for Families  is a collaboration between Fresno County Behavioral Health-Children's Mental Health, EMQ-Families First, Exceptional Parents Unlimited (EPU) and Comprehensive Youth Services of Fresno, Inc. (CYS).   Bright Beginnings for Families  includes comprehensive and intensive services and supports for families with children ages birth through 10 years with issues of attachment and bonding, serious emotional disturbance (SED), learning, development, disruptive behaviors, or poor socialization.
The program at CYS focuses on the provision of  Parent-Child Interaction Therapy (PCIT) to children 2 to 7 years of age whose problematic behaviors (defiance, inability to follow directions, aggression) are disruptive or impulsive enough to cause serious problems at home, at daycare, pre-school, kindergarten or elementary school.
How can my child be referred to this program?
Anyone can refer a child to the Bright Beginnings for Families program at CYS.  Children must first undergo an assessment to determine the best treatment options, which may (or may not) include PCIT.
What is PCIT?
PCIT is an evidence-based parent-child treatment program that assists parents of children with behavioral problems.  By restructuring interactions between parents and child, it reduces disruptive behavior and improves the parent-child relationship. Parents learn specific skills to increase positive attention to behavior they want to encourage, and specific disciplinary techniques to respond to undesired behaviors.
PCIT has two specific program components:
Relationship Enhancement:  Parents are taught and coached how to decrease negative aspects of the relationship with their child while learning how to communicate in a more positive manner.
Strategies for Compliance:  Parents are taught and coached how to provide effective discipline and child management skills.
What is unique about this type of therapy?
PCIT incorporates both the parent and the child within the treatment session and involves "live coaching" throughout the entire process.  Treatment takes place in two rooms which are separated by a one-way mirror (see diagram below).  Parents receive live coaching from their therapists behind the one-way mirror via a wireless earbud, as they undertake guided play sessions with the child in the other room.  Home practice facilitates skill-building and confidence in using PCIT techniques and strategies.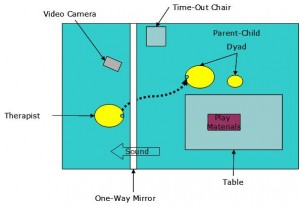 Where are services provided?
PCIT services are provided at Comprehensive Youth Services Main Office/Clinical Facility at 4545 N. West Avenue in Fresno.
Is there a cost for these services?
Services may be covered by Medi-Cal or MHSA funds.
Effective July 1, 2011, the Fresno County Department of Behavioral Health began to apply the "Uniform Method of Determining Ability to Pay (UMDAP)" to all programs funded by the Mental Health Services Act (MHSA).  The Bright Beginnings for Families program  is a qualified MHSA  program.  Comprehensive Youth Services will assist families  in applying for UMDAP so that they may qualify for low cost services based on income.
How I receive more information on this program?
Please contact the Program Manager,
Jim Pryce, LCSW at (559) 229-3561.
Bright Beginnings for Families is a  program of Fresno County's Mental Health Services Act (MHSA) Program, with funding created through a State ballot measure, Proposition 63.